Plant Forward 2023
15 September – 4 October

Our sustainable future is with plants.
Plant Forward inspires Asian consumers to explore the benefits of a plant-based sustainable lifestyle.
Meet doctors and experts from Asia as they discuss the positive impacts of a plant-based diet for people, animals, and the environment
Explore new flavours for your taste buds with chefs hosting live cooking demonstrations
Learn how to reduce food waste and make local, sustainable lifestyle choices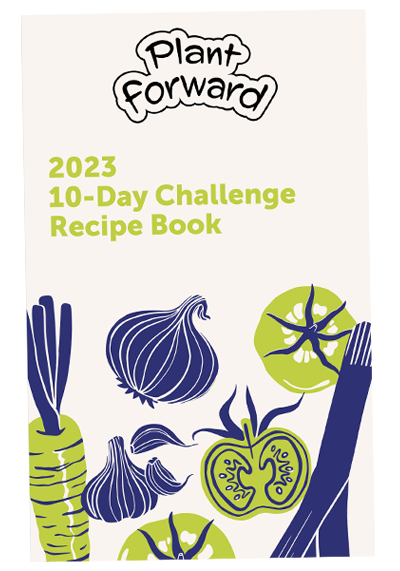 Recipe Book
Get your 10-Day Challenge Recipe Book full of tasty plant based recipes.
Take the 10-day challenge and you can win gift cards for Shopee Singapore plus other exciting prizes from our partners, Oatly, abillion, and more! Swap one meal per day for a plant-based alternative. It's good for your health and great for the planet!
To sign up, join our Plant Forward Singapore Facebook Group
You will also be the first to receive our Plant Forward 2023 recipe book, plus other exciting bonus recipes and tips for a healthy, sustainable lifestyle. Sign up today!
This year's Plant Forward also features 7 exciting live-stream events:
China
Chloe Lin, Director of Sustainability for Oatly, China, and Dr Bin Chen, founder of PBIF Global Plant-Based Carbon Neutral Industry, join Plant Forward to discuss their inspirations behind corporate local sustainability strategies in Asia.
China
Yanli Kang, BU Director of Hona Organics, and Chef A-Jun will delve into the world of organic, plant-based seasoning (condiments) to uncover the perfect blend of flavour and nutrition. Unmissable insights for health-conscious, Asian culinary enthusiasts!
The Philippines
Dr Johann Kim Manez from the Philippines, will talk about Lifestyle Medicine and how chronic conditions such as heart disease can be treated with a plant-based diet and lifestyle changes.
South Korea
The Korean Food Promotion Institution and their team of top chefs will share with us the best of Korean cuisine and the benefits to our health. This class is about making 'songpyeon', traditional rice cake that is eaten during 'Chooseok' (Korean thanksgiving holiday).
India
Dr Lakshmi Sundar from India will be speaking about how to effectively treat diabetes with a whole food, plant-based diet.
Japan
Chef Nana from Japan returns this year with more mouth-watering plant-based recipes using miso in her "Magic of Soy" masterclass.
Indonesia
EcoRanger, Dimas Teguh Prasetyo, from Indonesia will celebrate the International Day of Food Loss & Waste (29th September) with Plant Forward! Learn how reducing food waste can empower local communities and help save the planet.
Our partners

Plant Forward is organised by ACTAsia's Compassionate Choices Network (CCN)in support of the UN Global Week of Action for Sustainable Development Goals. The CCN has 11 members across 9 Asian countries and work to drive sustainability, animal welfare and social equality in the region. We promote action through education.